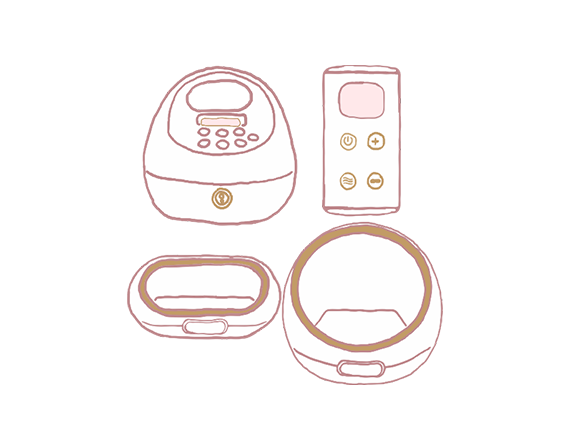 Let's find out which Spectra Breast Pump matches your lifestyle and pumping goals.
When you're choosing your breast pump, you need to consider your specific needs:
How often will you pump?
Do you need to carry the pump around?
Do you have twins (or multiple babies)?
Do you have a premature born baby?
Is your milk supply low? Or are you having some medical difficulties?
Are you trying to relactate (i.e. restart breastfeeding)?
The answer to these questions will lead you to what breast pump is best to use for you.
How to Choose a Breast Pump That's Right for You?
All Spectra Breast Pumps have a Closed System. They are silent and easy to use. Plus, you can use them as a Single Pump and Double Pump, as per your need.
When it comes to buying a breast pump, you must consider three things:
Portability – Is the pump easy to carry when you step out of the house?
Performance – Does it have all the features you want?
Budget – Is it affordable?
Our Recommendations
The Best Pump for Once in a While
If you need to express occasionally, or maybe a feed a day, Spectra Handy is a great choice. This manual breast pump is powered by hand movements. The advantage of using a manual pump is that you can pump anytime anywhere, as you don't need electricity and it is allowing you to directly control the pressure and frequency of milk expression.
The Best Pump for Working Mamas
If you want to use the pump at work or on the go, you will need a lightweight, silent and time-efficient model. Therefore you might want to consider the Spectra 9 Plus Electric Breast Pump (280 grams) or Spectra Q Electric Breast Pump (160 grams), or one of our latest models the Spectra Dual Compact Electric Breast Pump (635grams) or the Spectra Wearable Electric Breast Pump (305 grams).
The Best Pump for Babies and Mamas That Need Special Support
If you are a mother of twins, your baby is in NICU, or you are experiencing breastfeeding challenges (i.e. inverted nipples, latch-on difficulties, low milk supply), you might want to buy our best-selling Spectra S1 Plus Electric Breast Pump or the latest addition to our range the Spectra Dual S Electric Breast Pump.
Compare the Spectra Pumps
All Spectra breast pumps are highly efficient and designed to make breastfeeding easier for new mamas. Please find a comparative table below to understand the unique features of each Spectra pump.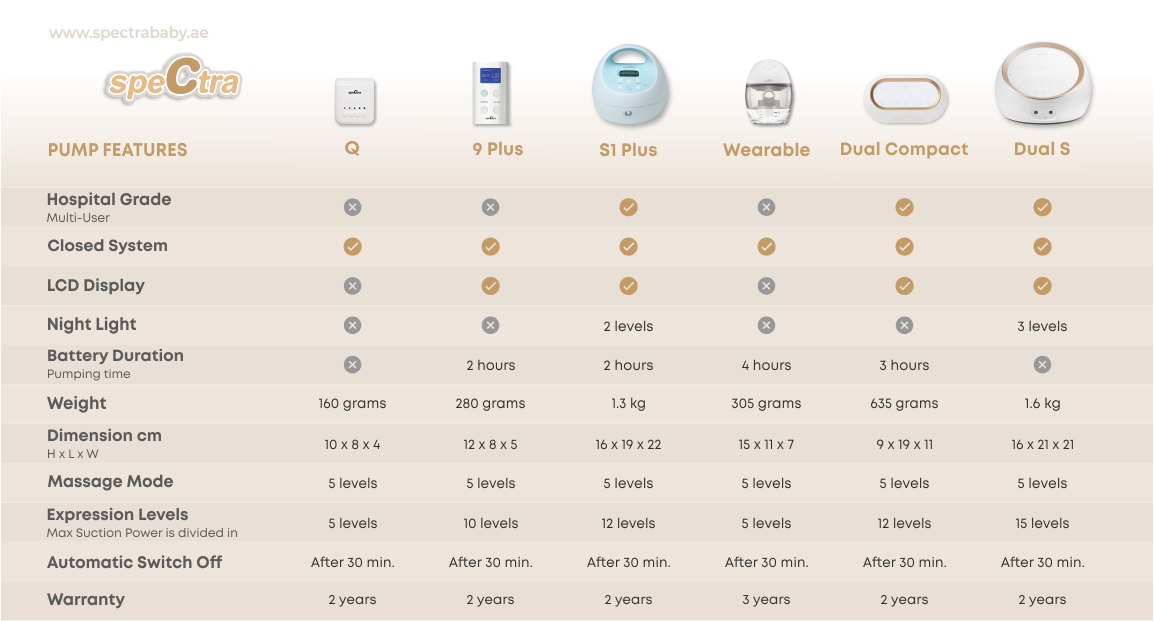 Regardless of the model you choose, we can assure you that our breast pumps will make breastfeeding easy and comfortable for you.
What Next?
At Spectra you can choose between five breast shield sizes: 16mm, 20mm, 24mm, 28mm, and 32mm.
A breast shield that is too large or too small can greatly impact the amount of milk you are able to pump and can also give you discomfort.
Read Next Breast Shield Size in order to find out your correct size.